Kitchen & Bathroom Services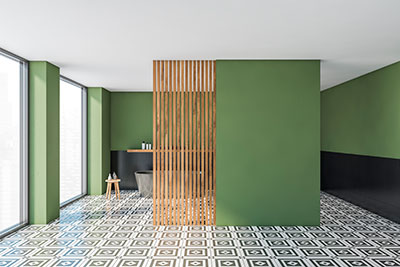 Kitchens and bathrooms generally get overlooked during home improvement planning. However, we at Kitchen & Bath Solutions know from experience that it is crucial to get these spaces or features upgraded at specific intervals. Moisture, water, steam, etc., take their toll on various surfaces and installations in your bathrooms and kitchens, causing them to look old before their time. We are highly skilled in every aspect of bathroom and kitchen models. The different services we offer include:


Kitchen Remodels
Kitchen remodeling is a very specialized task because it involves various services, including tiling, plumbing, countertop installation, and more. Our team of skilled designers works very closely with you to get a good understanding of what your specific requirements are. Depending on how you use this space, they work to create the best and most unique designs and plans for your kitchen. We focus on designing smart storage solutions, resilient countertops, kitchen islands, and tough and hardy sink installations. Our creativity and skills help ensure that you get long-lasting, and appealing kitchen spaces that are a pleasure to use. Read More About Kitchen Remodels »


Kitchen Cabinet Installation
Kitchen cabinets need to be made with high-quality materials that can withstand regular use and wear. We understand that these features are some of the most used in your kitchen and that you will open and shut them multiple times each day. We recommend using high-grade, waterproof materials and finishes so that your kitchen stays looking great year after year. We make sure that the cabinet design is unique, appealing, creating a pleasant environment in your kitchen. Our team goes the extra mile to understand your style preferences and the functionality you want from these features before providing the best plans and designs. Read More About Kitchen Cabinet Installations »


Countertop Installation
Countertops are a crucial element in any residential kitchen. You need these surfaces for food prep, cooking, sometimes for serving food, and more. In addition to functionality, you want your kitchen countertops to be easy to clean and maintain. Material needs to be heat, scratch, and water-resistant to last for a long time, even with regular use. We plan and design your countertops perfectly, offering recommendations on the best materials to use so that you get a kitchen space that is tough, hardy, and easy to maintain. While we handle countertop installations during kitchen remodels, we can also replace existing countertops based on your requirements and budget. Read More About Countertop Installation »


Kitchen & Bath Designs
Creating the perfect kitchens and bathrooms is a lot about proper planning and correct material selection. It can be effortless to create an appealing space; however, you need the kinds of skills and experience we must ensure that these rooms are comfortable, practical, and long-lasting. When we handle kitchen and bath designs for our clients, we provide the perfect balance of all these aspects. Our designers are creative and seasoned enough to work on your ideas and requirements while creating the best kitchen and bath designs and plans. Designing involves planning correct layouts, having suitable storage features, and ensuring that the movement flow in the space is perfect. We are here to help you with all your big and small kitchen and bathroom designing requirements. Read More About Kitchen & Bath Designs »


Bathroom Remodels
We offer customized bathroom remodeling solutions to clients in and around Damascus, Virginia. Our team of highly skilled and creative designers is committed to providing you with unique bathroom remodels. We ensure that this space is practical and safe for use with the right tiling, amenities, ventilation, showers, and lighting. We recognize that as a homeowner, you will have specific requirements, so we take the time to understand your styling requirements preferences and budget and work on those while providing the best kitchen and bath designs. We know what it takes to provide our clients with value for money and help with everything ranging from planning to material selection and more. Read More About Bathroom Remodels »


Bathroom Shower Installation
Showers tend to see significant use in most homes, and sometimes this can result in early deterioration of the surfaces, causing them to look dull and old. What you need a new shower installation or want to upgrade an existing one, we can help in the best possible way. We offer customized services to our clients, ensuring that their bathroom showers are unique, stylish, yet practical to use. Our company focuses on aspects such as ease of maintenance so that you can keep your shower spaces clean with the least amount of trouble. Today there is a wide variety of products and materials available on the market, making it necessary to have detailed information about how these perform in the long term. We provide you with all the information you require to make better-informed decisions. Read More About Bathroom Shower Installation »


Remodel & Sink Installations
If you want to remodel your bathroom or kitchen or need a new sink installed, we can help. We have extensive experience in handling full-scale and kitchen redesigning and installation projects for our clients. When we remodel these areas, we keep practicality, ease of maintenance, and resilience in view, making sure that you get a stylish space that will upgrade your home's look. If you want new sinks installed in your kitchen or bathroom, we can help with that project as well. There is a wide range of sink products to choose from, and our team will provide you with details regarding these. We handle the installation to industry standards so that your sink and bathroom areas last for many years. Read More About Remodel & Sink Installation »


Ceramic Tile Installation
Ceramic tiles are highly resilient, rugged, and hardy, available in various designs, colors, patterns, and textures. If you want to replace the tiling in your bathroom or kitchen, we recommend that you consider ceramic tiles. There is an impressive range of products on the market that you can choose from, and we are here to guide your choices. Once you have decided what you want, we will install them perfectly on floors and walls as required. Our experts prep the surfaces very well before handling the installation work. We also cover our ceramic tile installation with ironclad guarantees so that you can be sure of the quality that we provide. Once experts have installed the ceramic tiles, you can be sure that they will last for decades without any trouble. Read More About Ceramic Tile Installation »


Bathroom Flooring Installation
Bathroom floors tend to see more wear and tear than most other surfaces in that space. If you want a change of bathroom flooring, we help with the replacement. There is a wide variety of products and materials that you can select from to create a unique bathroom floor that will also be slip-resistant and safe for use. Our bathroom designers will work with you and consider your ideas before suggesting the best materials for your bathroom flooring. Choose from materials such as natural stone, ceramic or porcelain tiles, wood, and more. Regardless of the material you opt for, we will make sure that the installation is done to industry standards and that your flooring is long-lasting and beautiful. Read More About Bathroom Flooring Installation »


Specialty Lighting
Whenever we design any kitchen or bathroom, we focus on having the correct illumination in that space. Lighting is a crucial aspect of designing hardworking areas like kitchens and bathrooms. You need task lighting and ambient lighting, and we will mix and match these different types of fixtures to create the best effect. While providing specialty lighting solutions, we also recommend using energy-efficient lighting fixtures such as track lighting and more. Whether you want us to help with lighting upgrades in your kitchens or bathroom or need complete remodeling solutions that include lighting features, we can help. Read More About Specialty Lighting »

For more details about how we at Kitchen & Bath Solutions can help with the best Kitchen Remodels, call us at 276-492-9353. We serve clients throughout Johnson City, TN, Kingsport, TN, Bristol, TN, Mountain City, TN, Damascus, VA, Abingdon, VA and offer customized services at competitive pricing. Our experts make sure that the solutions they recommend meet your requirements and fit into your budget. Speak with our professionals for unique kitchens and bathrooms that will uplift and add value to your home.
We Provide Services to the Following Cities, Towns and Surrounding Regions of VA and TN: